Join Brad Pettitt MLC as he lays out a vision for a low-carbon, connected and liveable future Perth.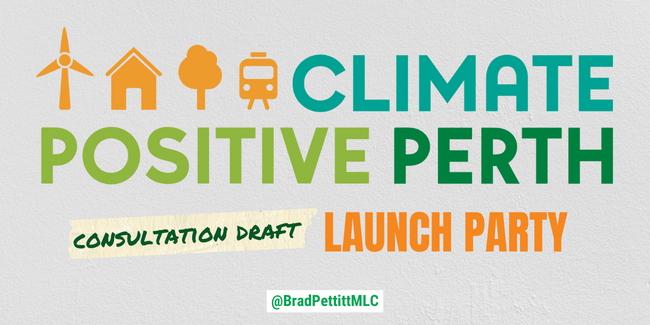 Climate Positive Perth is ready to see daylight! Join Brad Pettitt MLC in launching his draft report for public feedback on Thursday, 5 October at Fridays Studio in West Perth.
The report sets out a credible, evidence-based pathway that demonstrates how Perth can respond to the climate crisis by becoming a low carbon, liveable, prosperous, and connected city.
Building out from Scott Ludlam's Perth 2.0 project, Climate Positive Perth offers solutions at the metro, neighbourhood and household scale.
Brad's keen to get community feedback on the report ahead of producing a final version in 2024.
If you're keen on finding out how we can tackle Perth's transport, planning, energy, housing and liveability challenges and offering your own feedback, you're not going to want to miss this!
This event is free. Please arrive at 6pm for a 6.30pm presentation from Brad.
Drinks on sale and nibbles provided.
Event Details
Date & Time
Oct 5th, 2023 06:00 PM through to
Oct 5th, 2023 09:00 PM
Location
13 Old Aberdeen Place
WEST PERTH WA 6005
Contact