Join the Greens (WA) as we attend the 30 Years, No Justice - Stop Deaths in Custody.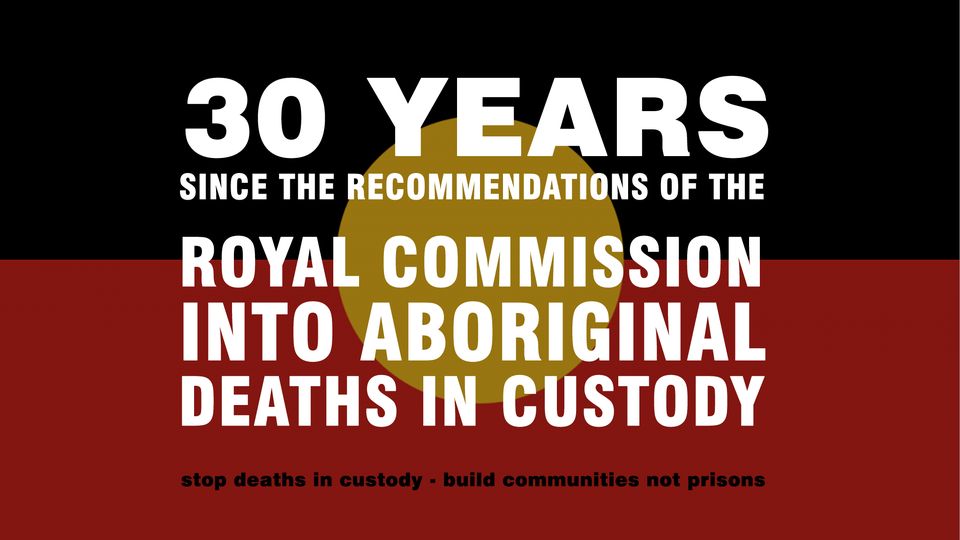 Join in solidarity and support of the First Nations Deaths In Custody Watch Committee as we mark 30 years since the recommendations of the Royal Commission into Aboriginal Deaths in Custody were handed down.
This report outlined fundamental changes necessary to stop the epidemic of deaths in custody. Central principles were the need for self-determination, an end to racist control by the state, and stopping the obscene numbers of Aboriginal people from being taken into custody.
These core recommendations have not been implemented. 30 years on and the situation is worse than ever.
There have been more than 440 Aboriginal deaths in custody since the report was released. In 1991, an average of 2140 Indigenous people were in prison on any given night. In 2020, these numbers had exploded to more than 13,000 people - the highest rate of incarceration of any group of people on the planet.
Five First Nations peoples have died in this country's legal system since the start of March, including one person here in Western Australia.  
Western Australia incarcerates First Nations peoples at the highest rate of anywhere in the world and has the highest rate of deaths in custody in the country.
WA also has the highest rate of incarceration of First Nations children and young people in the country. 
No child should be in prison and it's time the McGowan Government acted on the very clear evidence and raised the age of criminal responsibility to at least 14 years. 
Join us at Forrest Place on April 15 to demand justice and self-determination.
Please wear dark colours. Masks and santisers will be provided but please bring your own if you can. 
No justice, no peace!
April 15th, 2021 12:00 PM through 2:00 PM
Forrest Place
PERTH
WA
6000
Australia
Download iCalendar entry for this event.
iCalendar feed for this event.